Mother's Day is fast approaching! Moms are our real life superheroes. So this May, you'll want to get her a wonderful gift you know she'll love. And I have one word for you: books.
I love giving books to my mom, mother-in-law and step mother-in-law on Mother's Day. However, it's important to do research beforehand. Giving a book is a great way to share the love of reading. But you don't want to gift the wrong book that isn't a fit for your mom's taste.
But fear not, the below list contains different books that will suit a variety of interests. I've read each one so I can vouch for them.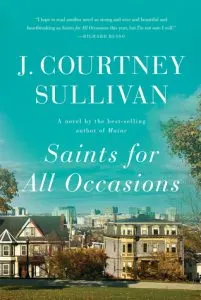 Saints for All Occasions by J. Courtney Sullivan
Saints for All Occasions is a moving, heartbreaking and extremely well-written novel. I stayed up too late reading it during the week (a habit I do all too often). The themes include personal sacrifice, impactful secrets, different portrayals of love (both family and romantic) and shifting gender dynamics. It's a perfect discussion book. Here's the synopsis:
[blockquote align="none" author=""]Nora and Theresa Flynn are twenty-one and seventeen when they leave their small village in Ireland and journey to America.
Nora is the responsible sister; she's shy and serious and engaged to a man she isn't sure that she loves. Theresa is gregarious; she is thrilled by their new life in Boston and besotted with the fashionable dresses and dance halls on Dudley Street. But when Theresa ends up pregnant, Nora is forced to come up with a plan—a decision with repercussions they are both far too young to understand.
Fifty years later, Nora is the matriarch of a big Catholic family with four grown children: John, a successful, if opportunistic, political consultant; Bridget, privately preparing to have a baby with her girlfriend; Brian, at loose ends after a failed baseball career; and Patrick, Nora's favorite, the beautiful boy who gives her no end of heartache. Estranged from her sister and cut off from the world, Theresa is a cloistered nun, living in an abbey in rural Vermont. Until, after decades of silence, a sudden death forces Nora and Theresa to confront the choices they made so long ago.
A graceful, supremely moving novel from one of our most beloved writers, Saints for All Occasions explores the fascinating, funny, and sometimes achingly sad ways a secret at the heart of one family both breaks them and binds them together.[/blockquote]

The Shark Club by Ann Kidd Taylor
The Shark Club is about a world-traveling marine biologist returning home to Florida. I devored this book in one sitting and was sad when it was over. It's part love story, an environmental mystery and features a strong, hardworking woman. As evident by the title, there's lots of content about sharks and engaging with the natural world. Here's the synopsis:
[blockquote align="none" author=""]One summer day on the beach in Florida, two extraordinary things happen to Maeve Donnelly. First, she is kissed by Daniel, the boy of her dreams. Then, she is bitten by a blacktip shark.
Eighteen years later, Maeve has thrown herself into her work as a world-travelling marine biologist discovering more about the minds of misunderstood sharks. But when Maeve returns home to the legendarily charming and eccentric Hotel of the Muses where she was raised by her grandmother, she finds more than just the blood orange sunsets and key lime pies she's missed waiting for her.
While Maeve has always been fearless in the water, on land she is indecisive. A chance meeting on the beach with a plucky, irresistible little girl who is just as fascinated by the ocean as Maeve was growing up leaves her at a crossroads: Should she rekindle her romance with Daniel, the first love she left behind when she dove into her work? Or indulge in a new romance with her colleague, Nicholas, who turns up in her hometown to investigate an illegal shark-finning operation?[/blockquote]

The Atomic City Girls by Janet Beard
A great aspect of historical fiction is learning something new such as with the The Atomic City Girls. This novel takes a look at the people involved in the Manhattan project. There's plenty of historical context in this one, including photos of the real-life people who worked on the project. It helps to reiterate the fact that the book is based on real events. Here's the synopsis:
[blockquote align="none" author=""]In November 1944, eighteen-year-old June Walker boards an unmarked bus, destined for a city that doesn't officially exist. Oak Ridge, Tennessee has sprung up in a matter of months—a town of trailers and segregated houses, 24-hour cafeterias, and constant security checks. There, June joins hundreds of other young girls operating massive machines whose purpose is never explained. They know they are helping to win the war, but must ask no questions and reveal nothing to outsiders.
The girls spend their evenings socializing and flirting with soldiers, scientists, and workmen at dances and movies, bowling alleys and canteens. June longs to know more about their top-secret assignment and begins an affair with Sam Cantor, the young Jewish physicist from New York who oversees the lab where she works and understands the end goal only too well, while her beautiful roommate Cici is on her own mission: to find a wealthy husband and escape her sharecropper roots.
Across town, African-American construction worker Joe Brewer knows nothing of the government's plans, only that his new job pays enough to make it worth leaving his family behind, at least for now. But a breach in security will intertwine his fate with June's search for answers.
When the bombing of Hiroshima brings the truth about Oak Ridge into devastating focus, June must confront her ideals about loyalty, patriotism, and war itself.[/blockquote]
Happy Mother's Day to all the moms!